footed pajamas in pink stripes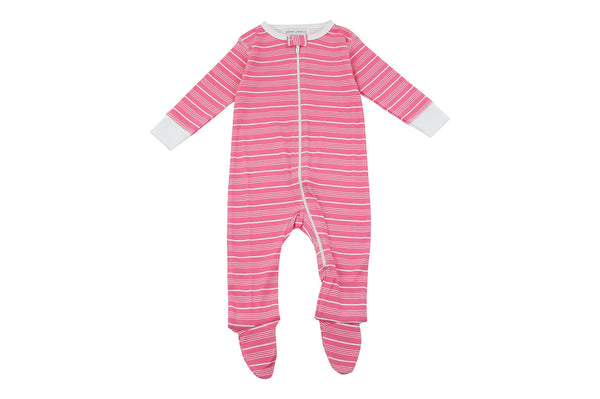 footed pajamas in pink stripes
Introducing our stylish Footed Sleeper, crafted with love from 100% organic cotton. This sleeper combines comfort, style, and sustainability, ensuring a cozy, eco-friendly sleepwear option for your little one.
Made from pure organic cotton, this sleeper offers a gentle and soft touch against your baby's delicate skin. The breathable fabric ensures optimal comfort, allowing your baby to sleep peacefully throughout the night.
The bold pink stripes add a touch of vibrant and playful charm to this sleeper. The eye-catching design brings a sense of fun and joy to your baby's bedtime routine, making it perfect for snuggles and dreams.
Designed with convenience in mind, this footed sleeper features a one zipper closure, making diaper changes and dressing hassle-free. The zipper runs smoothly from neck to toe, providing easy access without compromising on comfort.
We are committed to sustainability, which is why this sleeper is made from 100% organic cotton. It's free from harmful chemicals and pesticides, ensuring a safer and healthier choice for your baby and the environment.
Give your baby the gift of comfort and style with our Footed Sleeper. Made from premium organic cotton, it offers softness, durability, and a conscious choice for your baby's delicate skin. Let your little one snuggle up in this adorable sleeper, creating precious moments of warmth, cuteness, and peaceful sleep.