onesie in pink marseille stripe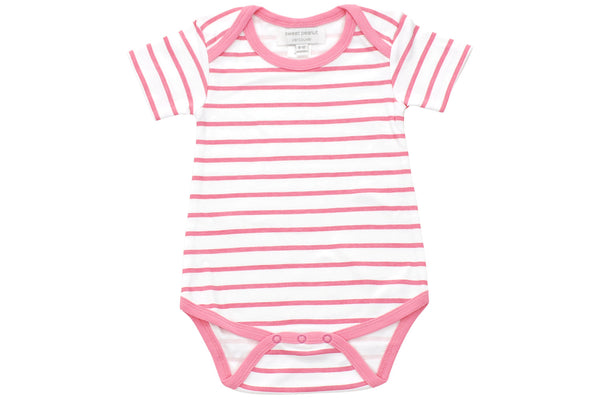 onesie in pink marseille stripe
Introducing our charming Pink and White Striped Baby Onesie, lovingly crafted from 100% organic cotton. This onesie combines comfort, sweetness, and sustainability, making it the perfect choice for your little one.
Made from pure organic cotton, this onesie offers a soft and gentle touch against your baby's delicate skin. The breathable fabric ensures optimal comfort, allowing your baby to move and play with ease.
The delightful pink and white striped pattern adds a touch of cuteness and classic style to this onesie. It's a timeless choice that will make your baby look irresistibly adorable.
Designed with practicality in mind, this onesie features snap closures at the bottom for easy diaper changes. The snaps are secure yet easy to undo, ensuring quick and hassle-free dressing for both parents and baby.
We are committed to sustainability, which is why this onesie is made from 100% organic cotton. It is free from harmful chemicals and pesticides, providing a safer and healthier choice for your baby and the environment.
Enhance your baby's wardrobe with our Pink and White Striped Baby Onesie. Made from premium organic cotton, it offers superior softness, durability, and a conscious choice for your baby's delicate skin. Let your little one exude timeless style and comfort in this charming onesie, creating precious memories and capturing hearts wherever they go.
Pair with our cozy pants and hoodies for a complete outfit.