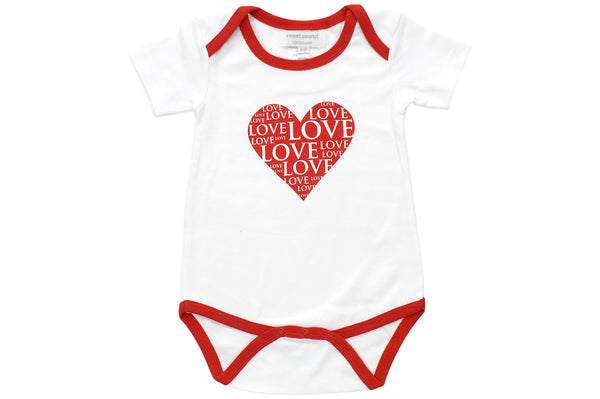 Introducing our adorable Baby Onesie featuring a Large Red Love Heart, lovingly crafted from 100% organic cotton. This onesie combines comfort, cuteness, and sustainability, making it the perfect choice for your little one.
Made from pure organic cotton, this onesie offers a soft and gentle touch against your baby's delicate skin. The breathable fabric ensures optimal comfort, keeping your baby cozy and happy throughout the day.
The standout feature of this onesie is the large red love heart design, adding a touch of sweetness and charm. The heart symbolizes love, making it an ideal choice for expressing affection for your precious bundle of joy.
Designed with convenience in mind, this onesie features snap closures at the bottom for easy diaper changes. The snaps are secure yet easy to undo, allowing for quick and hassle-free dressing.
We are committed to sustainability, which is why this onesie is made from 100% organic cotton. It is free from harmful chemicals and pesticides, providing a safer and healthier choice for your baby and the environment.
Celebrate love and comfort with our Baby Onesie featuring a Large Red Love Heart. Made from premium organic cotton, it offers superior softness, durability, and a conscious choice for your baby's delicate skin. Let your little one radiate love and cuteness in this heart-adorned onesie, creating treasured memories and precious moments.
Pair with our cozy pants and hoodies for a complete outfit.