short sleeve onesie in orange stars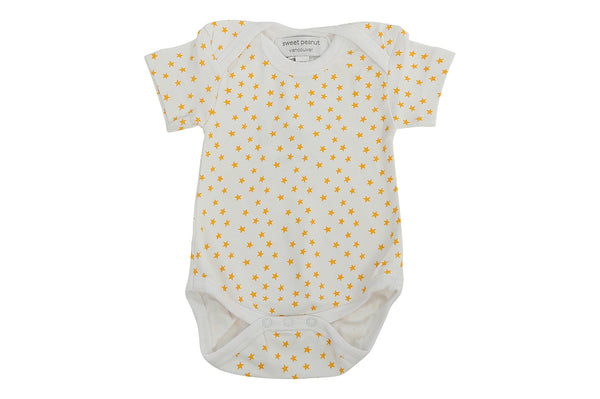 short sleeve onesie in orange stars
Introducing our adorable Orange Star Print Onesie, made with love from 100% organic cotton for your baby's utmost comfort. This onesie is not only stylish but also gentle on your little one's delicate skin.
Crafted with care, the soft and breathable organic cotton fabric ensures a cozy and irritation-free experience for your baby. The vibrant orange color adds a playful touch to their wardrobe, while the charming star print adds a touch of magic.
This onesie features a convenient snap closure for easy diaper changes and dressing. The well-designed snaps ensure a secure fit while allowing for quick and hassle-free outfit changes. It's perfect for busy parents who want to keep their little one comfortable and stylish throughout the day.
Designed with practicality in mind, this onesie provides full coverage with its long sleeves and comfortable leg openings. It keeps your baby cozy and warm, making it suitable for any season or occasion.
Made from 100% organic cotton, this onesie is not only gentle on your baby's skin but also supports a sustainable and eco-friendly lifestyle. By choosing organic, you're making a positive impact on the environment and ensuring a healthier future for your little one.
Give your baby the gift of comfort and style with our Orange Star Print Onesie. Crafted from premium organic cotton, it offers the perfect combination of softness, durability, and an adorable star print. Let your little one shine bright in this charming onesie, creating beautiful memories in a garment designed with their well-being in mind.